Happy Friday everyone. I bring you hurricane Sandy flowers! Yep, I made these while wind and rain were lapping at our house on Monday and Tuesday. After I made mom her flowers for her birthday
here
, she wanted me to make something similar for her friend who just moved into a new house. She bought all the supplies and let me have at it. I think it turned out pretty neat- I took some risks and I think they turned out pretty cool. The thing that scared me a little was painting the big burlap rosettes. I took a silver paint and mized with a weird shade of blue and this is how it turned out. I really like the finished look. And, recognize the button from last night's picture? I just loved them too much.
Mom was also lucky enough to find a pretty cool drawer to place the jar vases in. This one is painted white and kind of shabby chic looking to me and has a pretty cool drawer pull.
I think she did a really good job finding something fun for these jars to go in. I also took a nice little close up of the leftover fabric I wrapped around the jar for a little added interest. I realize that they are crooked and don't match up and I decided that it was more fun that way. The friend is a quilter so I think she can appreciate scraps and fun edges.
Last but not least I have included a picture where you can see a little more of the variety of flowers in the boquet. Unfortunately not the best coloring or lighting because I was in a little bit of a hurry this morning, but you get the idea.
I think they all turned out pretty cool and I have to admit I like the green burlap quite a bit. I also used lots of buttons from my stash to cover the ugly sticks at the center of each flower. Even though I tried my best to keep them down inside the cloth a little, they definitely still look much more finished with a pretty little button in the center.
So there you have it, my Hurricane Sandy flower arrangement. Did anyone else do crafts while the hurricane ran its course?
Linkin up today at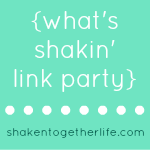 and