Hello everyone, hope you all had a fantastic weekend. As usual, mine was entirely too fast and I didnt get everything accomplished that I had hoped. On the bright side, Friday evening I got to make an idea come to life and it turned out GREAT! On a week's notice of a friends open house and not really having much moola or time to shop I thought I'd start looking for ideas that I could make my own. I really liked this cool idea I found on
Burlapartbyelizabeth
on Etsy.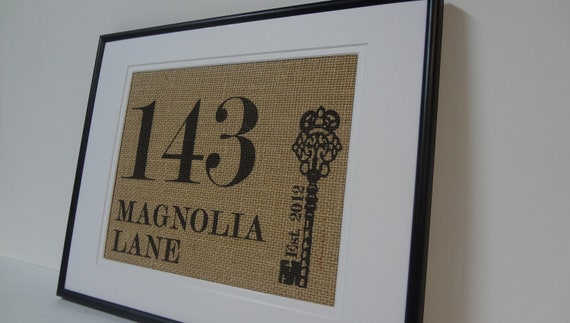 And thought, hmmmm.. wonder how I can make one of those. I came across a basic tutorial for a monogram burlap at
My Love of Style
. So I took what I needed and a great idea from a coworker to use my Cricut to stencil my smaller letters and was off running.
1. I started by cutting my burlap to the size of my glass.
2. I outlined the numbers and the key as seen below on my computer print out and then lined up my cricut-made "stencils" for the address portion. One helpful hint is that if you cannot see ALL of your design through the bulap, you can re-outline with sharpie- it helps SO MUCH!!
3. So next I patined in the numbers, key and stencil and then peeled up the stencil to reveal a fun looking letter!
I just loved it!! Then I remembered.. oh yea- I wanted to put the YEAR so they will always remember what year they bought their new house.
4. I cut out and put on a 2012 "stencil" and added some paint.
5. So here is a picture of everything completed , but when I tested how it looked in the frame, it needed a little more.
6. Since my piece really could benefit from a "mat" I cut a piece of 8x10 shimmery white cardstock into a 1/2" mat using a papercutter and just being REALLY careful. (sorry about the orientation of this picture- not really sure WHY, but blogger keeps flipping it when uploaded and I don't know what else to do for it. ) I did also use some spray adhesive on the mat to keep it stuck to the burlap
7. Last but not least I placed it in the freshley painted frame I already had on hand and WALA! I included my original computer printout of the original idea I had some up with.. I think it turned out pretty darn great :)
Have you ever tried burlap creations? If so, what have you done? I am addicted!!
Linking @